A continuous positive airway pressure device (CPAP) is used to treat people with sleep apnea. A CPAP is a device that uses a mask, tubes and fan to push the tongue away from the back of the throat and allows proper air flow. It will halt all occurrences of apnea and greatly reduce snoring. An individual with a CPAP device should wear it whenever they sleep, even for short naps. While a CPAP does not cure sleep apnea it will drastically improve your sleep problems.
Is snoring a problem in your household? Are you tired of not getting restful sleep?

The Moses is fitted by your dentist and works by moving your lower jaw and tongue forward, thereby creating more space for you to properly breathe during the night. This reduces or eliminates snoring.
A snoring appliance is an oral appliance that resembles an athletic mouthpiece. Small and flexible, it has no moving parts, masks, hoses, or batteries. Generally made from sterile plastic it is easy to clean with a regular toothbrush.
Custom fit by a dentist in one simple, painless visit. Fit to the patient's teeth to keep the upper and lower jaw in position when the jaw and throat muscles relax during sleep. This keeps the airway open providing restful, quiet sleep.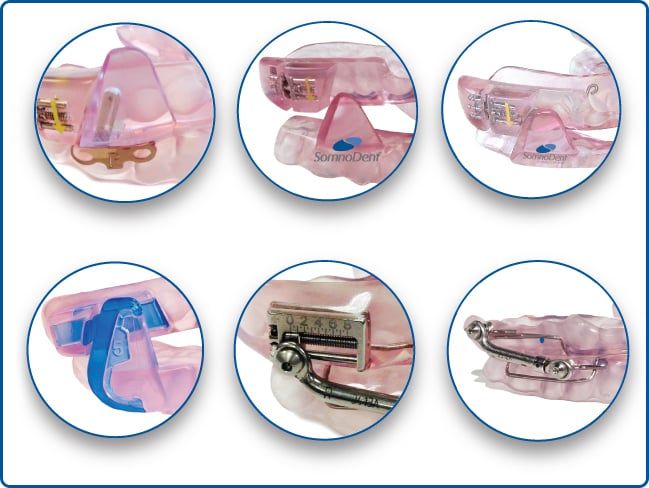 Comfortable for Patients - 88% of patients reported regular use of SomnoDent device - Unique SMH BFlex technology provides unparalleled comfort - Patients can talk and open / close their mouths and lips while wearing device.

High Quality - FDA 510(k) cleared and manufactured at an ISO 13485 certified facility - Customized using the highest quality acrylic which does not discolor or attract odors - Device life expectancy 3-5 years; and devices have a 3 year warranty against manufacturing defects

Uniquely Compliant - The first and only dorsal fin oral device with micro-recorder that objectively records compliance data - Reports include hours device is worn and patient's supine or non-supine head position

Clinically Effective- 15 independent studies demonstrate the device's significant clinical benefits - 91% of patients reported improvement in sleep quality with SomnoDent