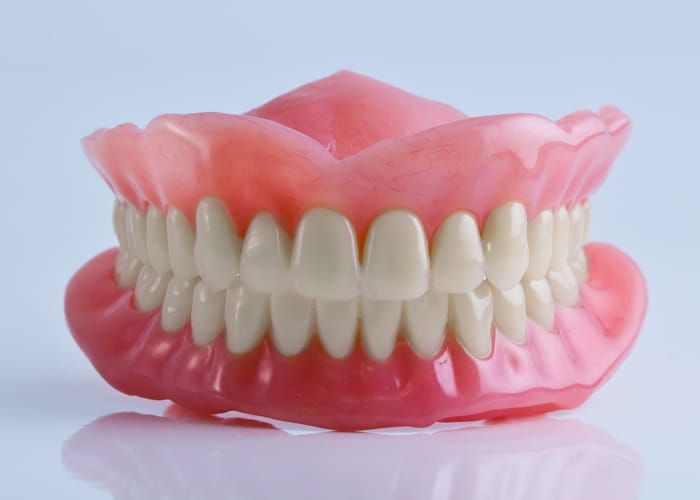 It is sometimes difficult to get used to your newly placed dentures. They can feel bulky, loose and awkward. In order to make your adjustment period smoother, here are a few guidelines to follow:

- Wear your dentures all the time after you first receive them.
- Never use adhesives on your dentures unless instructed to by your doctor.
- When you go to sleep, remember to always remove your dentures.
- Always brush your dentures after removal and store them in a bowl of water. You can soak your dentures in a denture cleaner as well, but only after you have brushed them.
- If you experience any sore spots, looseness or discomfort, please let your doctor know so they can help.

Never try to adjust your dentures on your own. Each individual will have a different adjustment period, and it will take time for you to become comfortable with your new teeth.
Flexible Partial Dentures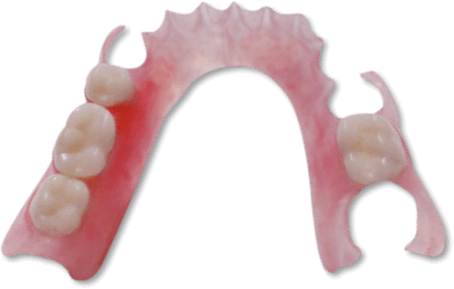 A rather comfortable tooth replacement option is a flexible partial denture. These dentures are made from a composite plastic resin and can include a bio-compatible metal for superior strength in some cases.
Partial dentures are used to replace missing teeth. Partials have metal hooks that grab onto the neighboring teeth for support. Unfortunately, the hooks have a tendency to loosen up the teeth. Partial dentures have the tendency to get loose and require multiple adjustments throughout the years. On the upper, there is a large piece of metal that goes across the roof of the mouth which can interfere with taste sensation and/or have food collected under it. Additionally, the partial plate can press into the gum tissue and cause sores. The partial dental plate must be taken in and out each day for cleaning. It is certainly not an ideal alternative.
A precision partial is held in place by a specifically shaped extension that locks into an area on a natural tooth that has been crowned. This ensures that the denture will not slip or come out when speaking or chewing.