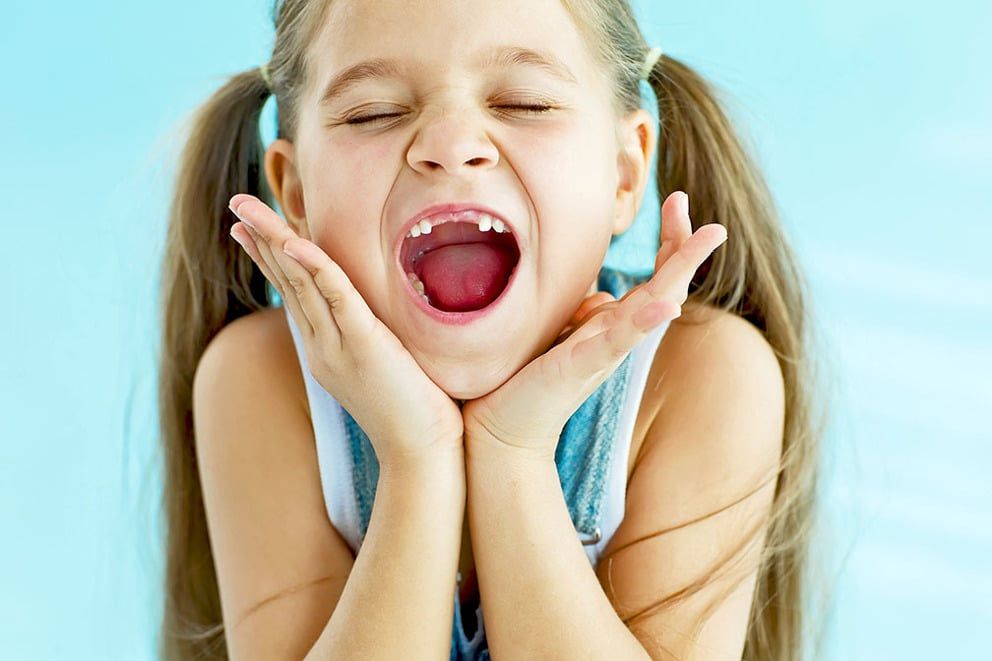 This refers to a tooth or teeth (primary or permanent) that have become 'fused' to the bone, preventing it or them from moving 'down' with the bone as the jaws grow. This process can affect any teeth in the mouth, but it is more common on primary first molars and teeth that have suffered trauma (typically the incisors). Treatment can vary depending on the degree of severity of the ankylosis (how 'sunken into the gums' a tooth may appear). The degree of severity usually will vary depending on how early the process started, and as a general rule, the earlier it starts, the more severe the ankylosis becomes with age. Several considerations must be taken before any treatment is provided, and your dentist will discuss all the risks and benefits of each treatment option.
In severe cases of enamel fluorosis, the appearance of the teeth is marred by discoloration or brown markings. The enamel may be pitted, rough, and hard to clean. In mild cases of fluorosis, the tiny white specks or streaks are often unnoticeable.
Mesiodens is the most common type of "supernumerary" (extra) tooth. It is typically discovered on routine radiographs taken in young children (3-6 years of age) and is always located in the mid-line between the upper permanent central incisors. The most common complications of all supernumerary teeth (including mesiodens) is delayed or lack of eruption of the adjacent permanent teeth. Only about 25% of mesiodens erupt spontaneously, therefore most of them require surgical management. Treatment of mesiodens is deferred until permanent incisors have at least 2/3 of root development (between ages 7-9), since early treatment can cause damage to the unerupted permanent incisors.
This is a common benign lesion in children and adolescents that results from the rupture of the excretory ducts (very small tubes) that deliver saliva to the top tissues of the lips. More than 75% of mucocele are located on the lower lip and their size and color may vary, however, they tend to be relatively painless for the most part. Most of the time, patients report that these "bumps" grow until they burst spontaneously, leaving small ulcers that heal within a few days. This does not mean the lesion is gone, as they often tend to re-appear weeks or months later. Most dentists will recommend surgical treatment for these lesions.
This is a relatively uncommon benign cyst in children and adolescents that appears in the floor of the mouth as a result of blockage of the salivary duct located under the tongue. Just like other mucous retention cysts (formed by pooled saliva), Ranulas tend to be relatively painless; however most of them will require surgical treatment. Your dentist will refer you to an oral surgeon for evaluation and treatment.